MenuAt Barista Express we pride ourselves in serving great tasting espresso based coffees made from our signature Doona blend.
Coffee
A combination of espresso, steamed and foamed milk.
A long, mild, milky drink with a gentle hint of espresso coffee and foamed milk poured on top.
Steamed milk over a double shot of espresso.
Espresso based black coffee.
Speciality Drinks
A combination of espresso and chocolate with steamed milk.
A blend of cinnamon, ginger, cardamon and all spice topped with steamed milk.
A delicious combination of espresso and gingerbread with steamed milk.
A mix of espresso and chai spices.
Your choice of flavoured syrup blended with creamy, steamed milk.
Espresso
A short, dark, aromatic coffee.
Espresso 'marked' with a little frothed milk.
Espresso topped with an equal measure of warm milk.
Hot Chocolate
Made with Milk or White Chocolate
Chocolate blended with steamed milk.
Luxury Hot Chocolate
£3.40
Chocolate blended with steamed milk and topped with marshmallows and whipped cream.
Rich, creamy, silky and indulgent, just like a liquid After Eight.
Salted Caramel Hot Choc
£3.50
A perfect balance of sweet and saltly blended with chocolate and steamed milk, a match made in Heaven.
Tea
Extras
Caramel, Cinnamon, French Vanilla, Gingerbread, Hazelnut.
Milk Options
Semi Skimmed Manx Milk
Free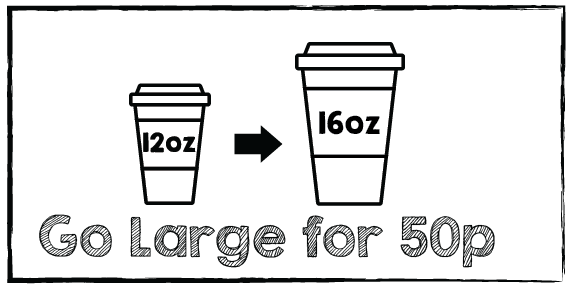 Cold Drinks
Still or Sparkling Water
£1.50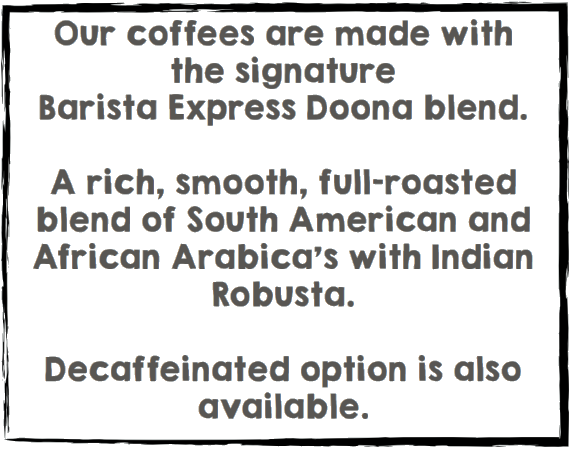 Tasty coffee when you want it, where you want it, and always served with a smile: that's Barista Express.